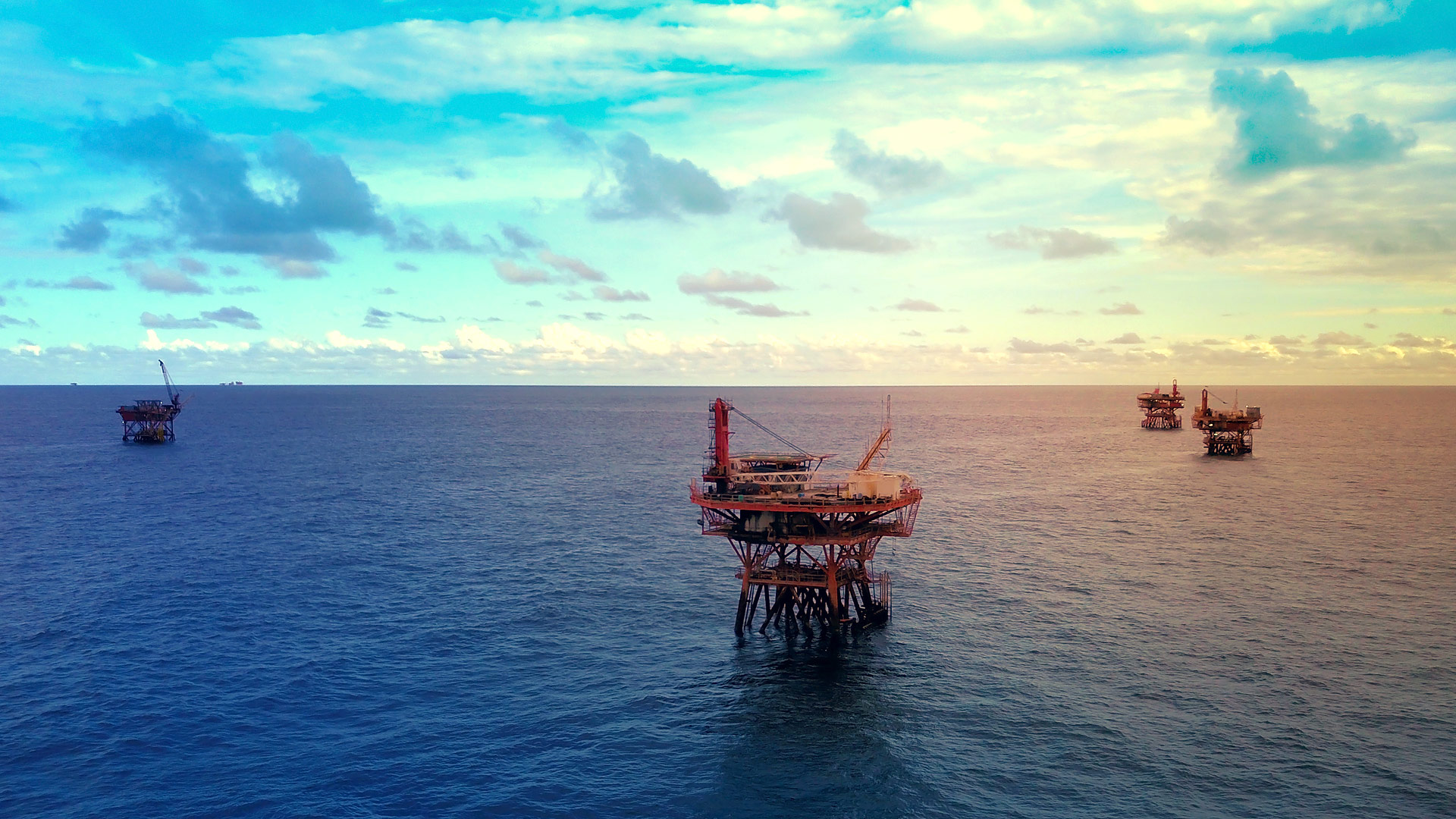 Trinity has been operating and producing offshore the East Coast of Trinidad since 2013. The assets are operated under a licence agreement (Galeota Exploration and Production Licence) with the Ministry of Energy and Energy Industries within the Columbus basin.
East Coast Summary
(H1 2021)
Assets
Working Interest %
2P Reserves
mmboe
2C Resources
mmboe
Avg. Production
bopd
Opex/bbl
US$/bbl
Break-even
US$/bbl
Trintes
100%
11.66
15.94
1,188
17.3
23.2
Current East Coast production is from the Alpha, Bravo and Delta platforms in the Trintes Field which resides within the Galeota Block.
Average 2020 net production from the East Coast was 1,188 bopd (2019: 1,205) which accounted for 37% of the Group's total with production levels broadly maintained from the prior year. To achieve this, the team conducted 16 restorative WOs during 2020 (2019: 13) and 4 well reactivations to underpin production. With the focus being placed on operational intelligence during optimisation and troubleshooting activity, minimal wellbore interventions were required on our high-volume ESP wells.
Throughout 2020 and into 2021, the team retained focus on the management and maintenance of all critical assets in the field. The positive performance indicators experienced in power reliability and operational efficiency are reflected in the field's low production volatility. Trinity's ability to effectively and economically manage these mature assets is a testament to a series of innovative solutions which form the foundation to our approach on all our projects.
Trintes Case Study in Well Management
During 2020 and into 2021, continued focus was placed on improving production assurance of the asset.
The team was able to replace production manifolds across two of its three operating facilities with minimal production interruption.
This modified design has enabled detailed nodal analysis and pointed optimisation strategies. Ongoing investment into increasing storage capacity continues with the construction of a new 10,000 bbls sales tank.
What did we do?
Better Electrical Submersible Pump ("ESP") run life (from 2.5 years to >8 years).

Stabilised power supply.
Introduced scale inhibitor treatment.
Improve Artificial Lift Design.
Precision monitoring and improved operational oversite.

Made our 'big' wells automated and 'tuned' to inflow performance.
Re-activated more wells (added 16 more wells).
Used onshore (Sucker Rod Pump) technology on low producers via use of MPHU (Mechanical Hydraulic Pumping Unit).
What were the results?
Production increase of 20% from 1,000 bopd (high volatility) to over 1,200 bopd (low volatility).
Production volatility reduced dramatically: 12m trailing volatility: 31 December 2017 11.4% to 31 December 2020 at 4.6%.
What does this mean?
More cash generative barrels produced.
Increasing roll-out of SCADA units and wider scale automation on higher margin Onshore expected to deliver meaningful uplift to top and bottom-line.
Facilities Management
In 2020, the Facilities team continued to execute a robust plan aimed at improving facility integrity and equipment reliability. The maintenance plan for the Trintes cranes was revised to capitalise on the competencies of the team and to deliver more frequent scheduled preventative maintenance activities. The benefit of this approach was that the cranes were able to be recertified without delays, with no downtime and at a reduced cost.
Of the 33 projects progressed during 2020 25 were completed with 7 continuing into 2021. Most projects continued to focus on welfare, structural and operational reliability.
Of note was the construction of a new 10,000 bbls tank in the Trintes asset which commenced in October 2020 and is well on its way to completion (targeted for Q4 2021). This tank will bring additional storage capacity and operational flexibility to the Trintes operations ensuring tank certification compliance without disruption to production.